MAVEN GUITARS

This is a Customized Dean Ukulele with a preamp and EQ.

Click here to buy on AMAZON with FREE SHIPPING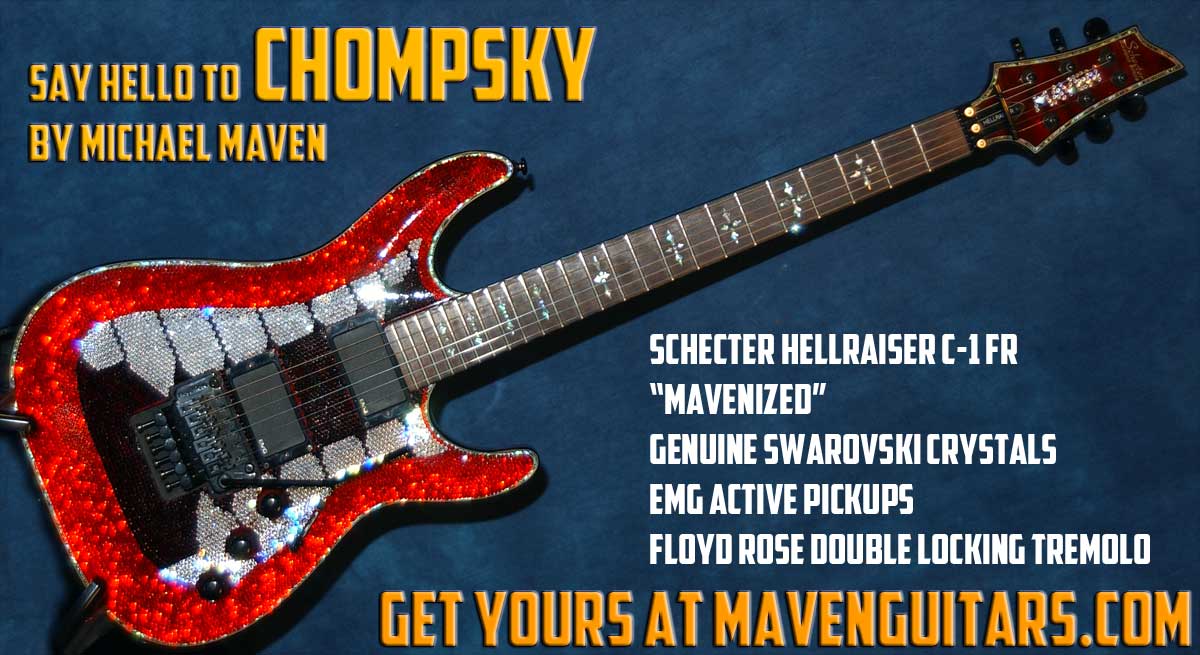 EMAIL ME TO GET ONE OF THESE GUITARS
Future you will thank you for Chompsky eating all the barriers in your way to fame and fortune.

EMAIL ME TO GET ONE OF THESE GADOL VIOLINS IN CUSTOM COLORS:
Amethyst, Aquamarine, Blue Zircon, Citrine, Crystal, Emerald, Fuchsia, Jet Black, Light Siam Red, Peridot, Rose, Sapphire, Sun Orange, Tanzanite, Topaz
See Colors in "PICK CUSTOM COLORS" above for approximate color tones.

EMAIL ME TO GET ONE OF THESE PINKBURST GADOL VIOLINS:
The Gadol S-1A violin is a well made and good sounding instrument to begin with. The bottom and sides are beautiful flame maple with a nice brown/orange color. After the treatment, it sounds surprisingly powerful. The tones it generates are quite pure and rich, and the instrument resonates strongly and deeply. I believe that it sounds better with the rhinestone treatment than it did before. I hear less bow noise and harsh overtones.

I have a theory as to why I believe this instrument sounds better with the rhinestones than it did before blinging. This is only a theory and it may be incorrect, or it may be spot on. The theory goes as follows: On a guitar, you pluck a string and it vibrates and resonates and dies off. In a violin, you are adding constant energy to vibrate the strings via the bow. Sustain is not nearly as important in a bowed instrument than a picked instrument. Adding constant energy to a surface that has much more mass may create the deeper richer tone, it may reduce the shrill sounds associated with bowed instruments, it greatly increases the surface area of the vibrating soundboard as well as the angle of dispersion, and it may increase the maximum volume the instrument delivers.

This violin is absolutely recommended for live performance as it delivers a very good sound and a look that will make people pay attention to and remember you the violinist. This will make you stand out in your orchestra or your band. They can be made to match favorite colors, outfits, school colors, Mariachi uniforms, or anything you can imagine. I can also make a three color design on request and custom designs. Let me know.

I would LOVE to do an entire Mariachi band with all matching instruments. Besides violin, I can do Guitarron, Guitarra de Golpe, Guitar, Vihuela, Ukulele, and Harp.
Better site and more pics coming soon. You can now buy this awesome Uke on AMAZON and get free shipping. If you want to buy a Maven guitar or violin or anything custom, please email me mike @ (you probably figured this out already) mavenguitars.com. Also if you are a music store and want to carry Mavens, please also email me.

I bling stuff. Right now since this is relatively new, the product line is custom stuff, this Uke, the Chompsky guitar, and burst violins. More coming soon. I have so many ideas.

This Ukulele, called the I Lava You Uke is built on a Dean Guitars ML electric/acoustic ukulele. It is about the coolest thing anyone has ever seen and every single person I showed it to was impressed. It is a showmaker and a conversation starter. It's great from a stage to your wall to a your ukulele club. It makes a great gift. I only have a few and I bling these myself so it takes some time to make (they're rare making them even cooler).




I generally use two kinds of rhinestones. The standard is Korean low-lead glass rhinestones, which are very impressive. I try to use 10ss, which is an excellent combination of brilliance, size, and cost. For the premium models, I use Genuine Swarovski Elements, "Xirius Rose" 2078. The smallest they make is 12ss and these things pop brighter than you can imagine. No camera has been able to capture them in all their brilliance. Another neat thing about the 2078's is that they come in a LOT of different colors. If you want absolutely the best crystals, nobody makes a better crystal than Swarovski. They have a unique shape, more facets per crystal than anyone else, better clarity, better coloration, and better adhesive than anyone else. The tradeoff is that Swarovski costs about ten times the price of the Korean low-lead's. We also can use Preciosa, which are made in Czech Republic and cost about 30% less.

Here are samples of the standard 15 colors in the Korean low-lead line. I approximated the colors as best I could on my screen, which will be different than yours. They are close enough to major colors so variances between this and your screen will not matter.

Amethyst
Aquamarine
Blue Zircon
Citrine
Crystal (crystal is white)
Emerald
Fuchsia
Jet Black
Light Siam
Peridot
Rose
Sapphire
Sun
Tanzanite
Topaz


This site and all its contents and product designs are copyrighted 2016-, Maven Guitars. All rights reserved. Maven is a trademark of Maven Guitars. Gadol is a trademark of Gadol Music.